February 8, 2020 5:30 pm - 11:00 pm
The DeWitt Area Chamber of Commerce will host its Annual Red Tie Affair, February 8th at the Banquet & Conference Center of DeWitt. This adult only event is a major fundraiser for the Chamber Foundation's Scholarship Programs which awarded ten $1,000 scholarships in 2019.
The evening includes . . .
• Cocktail hour with hors d'oeuvres, wine, beer, and soda
• Elegant Prime Rib Buffet
• Entertainment
• Silent Auction supported by local business partners
• Raffle
This is a terrific evening filled with fun, great food, and spectacular entertainment. We hope you will join us as a sponsor,
participant or both. Proceeds from the event support the DeWitt Chamber Foundation's Scholarship Fund. The Foundation
supports Clinton County students seeking careers in the skilled trades and medical professions.
For additional information please email Loretta@dewittareacc.org or contact the Chamber Office at 517-624-2953.
Purchase Tickets Online Now
Click image below to download paper registration for printing and mailing a check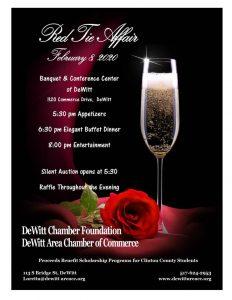 Category: Chamber Events, Community Events