The DeWitt Area Chamber of Commerce would like to welcome you to our community, where local businesses have partnered with local government and non-profit entities to promote balanced growth in the DeWitt area. The Chamber's goal is to enhance economic stability and business opportunities while protecting the characteristics the community values.
DeWitt is more than a cluster of neighborhoods and geographic areas; it is a community of people. Everyday people, committed to growing the community in a responsible way; a community that supports entertainment and recreational programs for all residents; a community that appreciates the value of education and safe neighborhoods; a community with unwavering pride and commitment to the future.
DeWitt is centrally located 10 miles north of the State Capitol, 10 miles northwest of Michigan State University, 65 miles east of Grand Rapids, and 90 miles west of Detroit. Regardless of your destination, commuting has never been easier thanks to the proximity of two major highways that intersect in the heart of the area; US 127 provides great access north to the Mackinaw Straits and Michigan's Upper Peninsula and south through Ohio; I-69 provides ease of travel across the state from Indiana to Port Huron and entry to Canada. In addition, the Capital Region International Airport provides opportunities for private and commercial, national and international air travel as well as air freight.
The DeWitt Area Chamber of Commerce and its membership is available to assist residents, businesses, and visitors as we hope you will enjoy and prosper in our community!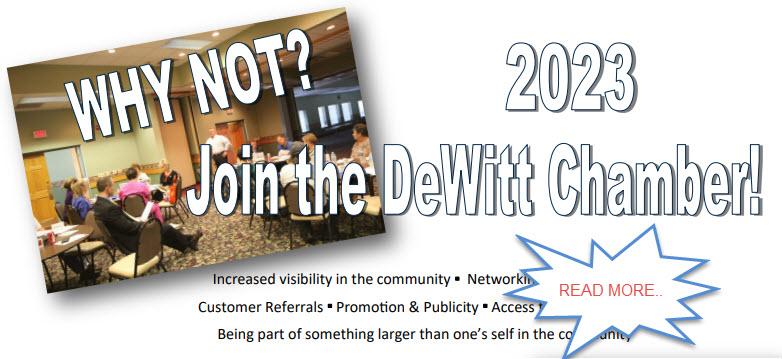 ---